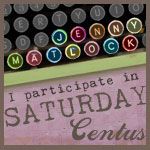 OK...I thought I'd join in today for the first time with Jenny's Saturday Centus. Bare with me...I don't even know what Centus means. I tried looking it up in the dictionary, but had no luck. That didn't stop me...I'm jumping in anyway.
For a list of participants visit Jenny's blog at
Jenny Matlock..."off on my tangent."
The idea is that Jenny or a guest writer starts the story and we finish it in 100 words or less. So, my story picks up after "... Yes, it is."
"Are you sure that's the one you want?"
I felt a little lump in my throat as I peered down at my choice, held tightly in my hand. I didn't think this would be so nerve-wracking. Was I making the wrong decision? I couldn't agonize over this any longer.
I took a deep breath before managing to say, "... Yes, it is." My mother sighed with relief. I had finally made up my mind after many agonizing minutes. I could feel it squirm in my hand. The kind gentleman placed it in a small container. My mother paid and thanked him.
I had pestered her all year. "Please mom, on our next vacation to Florida can I get one?" Eventually she had relented and promised that on our next visit to the pier I could pick one out.
Now I smiled with delight. Finally, I had a small brightly painted souvenir turtle with St. Petersburg, Florida painted on its back.